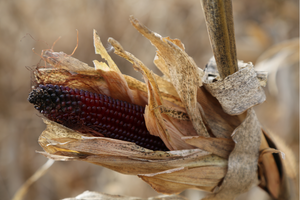 How It All Started
All started on a family farm in Lambton County looking to expand their crops. Brainstorming around the kitchen table having snacks, it was obvious that popcorn would be the next crop for our farm.
Time continued to go by and so did our discussions of what form we would bring the popcorn to market. With hundreds of options of kernels in stores we found the answer would be Pop off the Cob.
Come May once field work began we found the right spot to plant our popcorn. On May23rd what was just a discussion around the table of our new venture it quickly became a reality, the popcorn seed was in the ground.
Walking through the crop all season taking notes, watching it grow, we realized we had a product we could offer. Come late summer we began the next step, and getting prepared for harvest.
Come fall, harvest is in full swing on our farm and so is the popcorn harvest. Getting the cobs out of the field and into storage where we can carefully sort and pick the perfect cobs to be packaged for our new customers.
Now that our season is almost complete we have 3 varieties to offer in Pop off the Cob, as well as kernels. We plan to grow many more varieties in the future for more options to you the customer.  
Mission
Founded in 2020, Popping Pods Popcorn will provide quality products both heathly and affordable. Our popcorn is locally grown on land we can trust. We are dedicated to the best products for our customers.